Descrizione
Customizable Addressable RGB LED Lighting
Equipped with 9pcs of Addressable RGB LED lights,
GH-01 A-RGB provides full lighting for your build,
it can be synced with other 5V ADD-RGB devices by M/B.


 ? Equipped with 9pcs of Addressable RGB LEDs. Can be synced with other 5V ADD-RGB devices by M/B.
 ? Structured with the uniquely designed metal frame and plastic base, coated with premium metallic paint.
 ? The unique wire hiding function keeps the interior appearance clean and tidy.
 ? The modular designs on all the components along with hand screws make installation convenient and easy.
 ? Its logical structure is made with reliable material and undergoes a strict manufacturing process. It can easily support a 5Kg graphics card.
 ? It utilizes a unique saw-tooth adjustment mechanism and a dual-hole installation design. Easy to install and use.
 ? Support computer cases of different models (with or without a power supply shield). Installation of a base extension (included) is required for cases without a power supply shield.


http://www.deepcool.com/product/dcoolingaccessory/2018-12/12_10317.shtml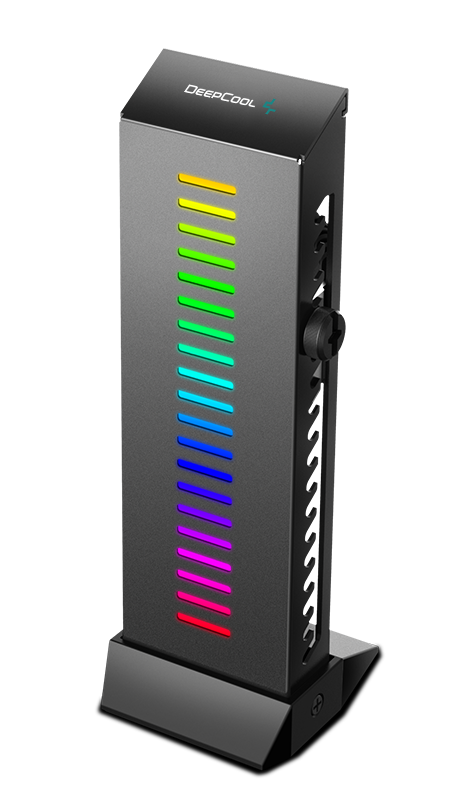 Fashionable and Hides Wirings
Structured with a uniquely designed metal frame and plastic base then coated with premium metallic paint, the GH-01 A-RGB possesses a fashionable and exquisite appearance; the unique wire hiding function makes sure that only a neat, flashy appearance will be visible to the eye.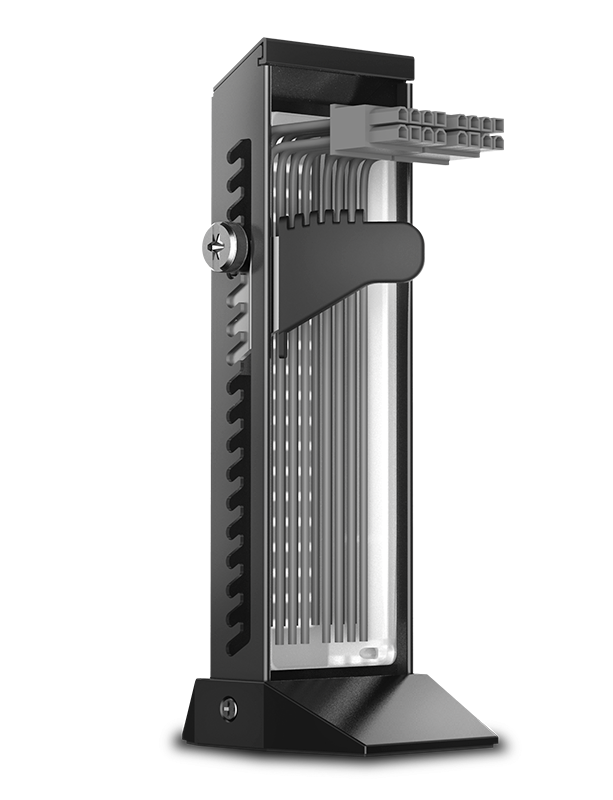 Modular Design, Easy to Install
The GH-01 A-RGB uses a modular design for all of its components, along with hand screws, so installation is convenient and easy.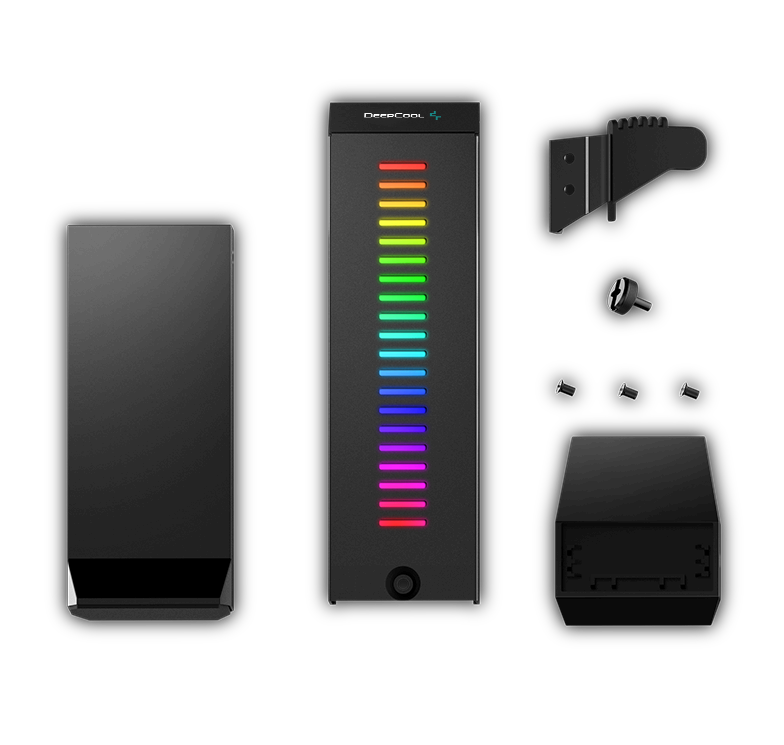 Reasonable and Reliable
The design of the GH-01 A-RGB is optimized using an incredibly logical structure. The materials are carefully selected and the manufacturing process meets the strictest standards to achieve the most reliable quality. Such high standards allows for the GH-01 A-RGB to easily support a 5Kg graphics card.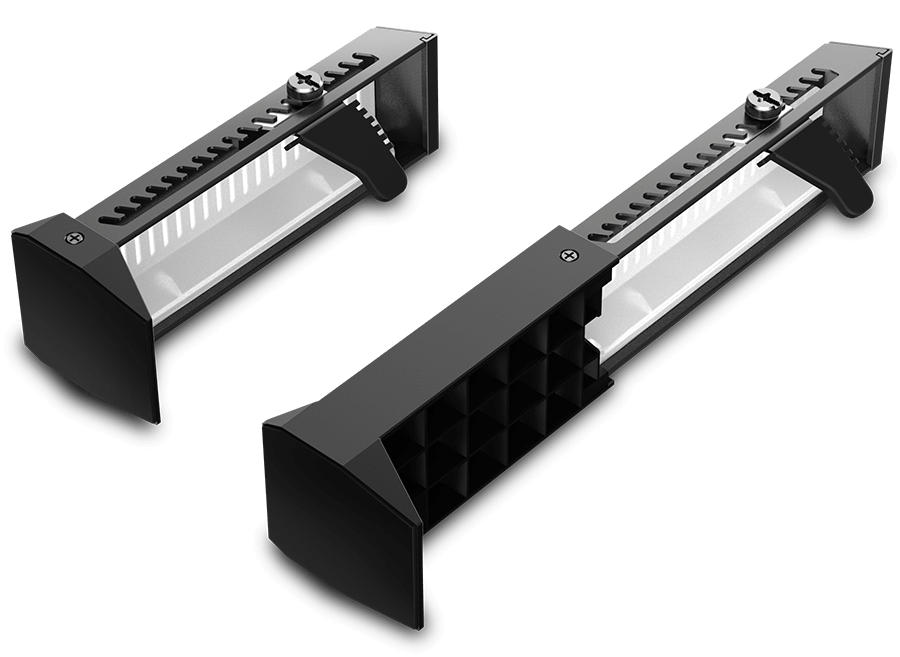 Original and Compatible
The GH-01 A-RGB utilizes a unique saw-tooth adjustment mechanism, as well as a dual-hole installation design. The combination of the two makes the fine adjustment of height available in 3 scales:±3.3/6.7/10mm.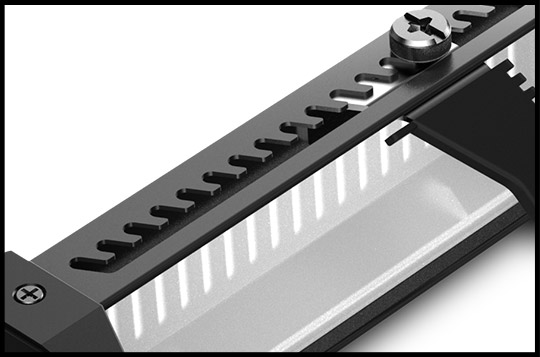 Supported With or Without a Power Supply Shield
The GH-01 A-RGB can not only support cases with power supply shield, but also support cases without power supply shield by installing base extension (included).


**SPECIFICATIONS:


| | |
| --- | --- |
| Overall Dimension(Type A) | 52.6×60.6×163.73mm(W×D×H) |
| Overall Dimension(Type B) | 52.6×60.6×267.63mm(W×D×H) |
| Support Range(Type A) | 47.2~154mm |
| Support Range(Type B) | 161~255mm |
| Net Weight | 306g |
| Cable length | 250mm |
| LED Rated Voltage | DC 5V |
| LED Rated Power | 1.2W |
| LED Control | M/B with 5V ADD-RGB Header |
| EAN | 6933412796107 |
I clienti ci amano
"Prodotti eccellenti e un servizio eccellente." - Josephine
"Ottimo rapporto qualità/prezzo.
Prodotti di alta qualità a prezzi ragionevoli. Grazie!
Condizioni USATO
Sui prodotti Usati e Garantiti da PEGASO TEAM nelle categorie :   Desktop Refurbished , Notebook Refurbished e Smartphone Apple Refurbished non possiamo garantire l'evasione dei prodotti ordinati e non a magazzino.